A history
or, how things used to look around here

To be honest, this site started pretty much for my own amusement. I had space available to make a site, but hadn't decided on a theme. One day I was talking with an old friend about some of the odd stuff we had concocted as kids, like slime, rubber eggs, crystal radios, etc. I realized a lot of this lore was probably being lost, so I decided to devote part of my available web space to cataloging some of these projects. I originally intended for it to be simple projects in simple text linked by some sort of index for easy retrieval. I never really intended for anyone else other than a few friends to ever see it, but somehow that got out of hand...

Recently I have run across some old code, images etc., so that I was able to reconstruct the Bizarre Stuff pages pretty much as they originally appeared (at least the start pages). Click on any of the screenshots to see these pages in their full glory. None of the links work on these pages except for "Back to History Page" which will take you back here.

The site started out pretty much like this - unformatted white text on a black background. I should have known better even then, but like I said I never intended for anyone to see this. I'm not sure if anyone ever did. Notice that there are only four projects listed. The first page completed was the Slime page, which is why it is one of the only pages on the site with its own background image.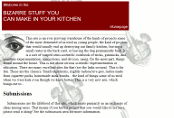 At some point I decided that someone may actually be looking at this site one day, so maybe I should spiff it up a bit. This is when it officially became "Bizarre Stuff You Can Make in Your Kitchen". I liked the title at the time because it was ridiculously long. There were more projects by this time. That's the original "Bizarre Stuff" wallpaper. Not sure why, I just liked the fish. He has a nice evil glint in his eye. I had added some graphics by this point, but not much to support the projects themselves. By this point there were I had installed a web counter. The site as getting enough hits to merit a little more time and attention. By the time this incarnation ended I had just over 500 hits, which seemed like a lot at the time...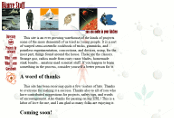 This was the homepage that a lot of folks saw the first time they visited "Bizarre Stuff". In some ways it is still my favorite, though not the easiest to navigate. I really like the title bar. This was the first use of the new wallpaper. Other than this page, the current site is pretty much the same today as it was at this time. Throughout this time the site wound up in a lot of directories, reviews, and other folks personal home pages (thanks to all of those folks). By the time I retired this design the site had well over 1 million hits! One other link works on this page: The Vortex of Mystery. This is something I am contemplating bringing back one day.
Things that got left out.


To the right is an image originally intended for the title bar but left out due to space. If you look closely there is a tiny person in that jar... Below is the title bar used very briefly for the "What's new" page.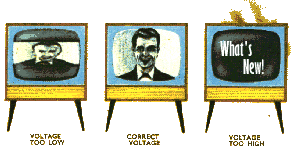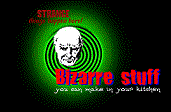 And that brings us to today. A catchy splash page and a (hopefully) easier to navigate interface. So what's next? There are so many projects to add I feel like I haven't even started, so there is no real end in sight. Keep checking back!