Frequently asked questions
WHY THIS SITE?


This site is an ever growing warehouse of the kinds of projects some of the more demented of us tried as young people, collecting in one place many of the classic, simple science projects that have become part of the collective lore of amateur science. It is a sort of warped semi-scientific cookbook of tricks, gimmicks, and pointless experimentation, concoctions, and devices, using, for the most part, things found around the house. These are the classics. Strange goo, radios made from rusty razor blades, crystal gardens... amateur mad scientist stuff. If you happen to learn something in the process, consider yourself a better person for it.

OKAY, BUT WHY?



The History page may answer some of those nagging questions.
PLEASE KEEP IN MIND...



...that this site was originally intended as a museum of classic projects more than a project or hobby site. These projects are here primarily for historical reasons. Some projects may not work or may work only with great difficulty due to unavailability of materials or other factors (although I do try to modernize when possible) and some are hazardous for various reasons (I note these). In no way do I recommend that anyone try any of these projects, least of all unsupervised children. Please regard these pages as historical documents.
HOW DO I USE THE SITE?



The projects are listed by a general alphabetical index, as well as by a general category listing. Other resources are available through the general home page.
WHO PUTS THIS TOGETHER?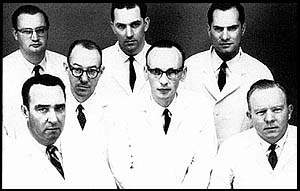 Our dedicated staff of international scientists work around the clock to bring you the latest in scientific entertainment! (Actually, it's just me here, but I liked the picture.)
IS THERE A STANDARD DISCLAIMER?



You bet there's a disclaimer! Just check out the FINE PRINT at the bottom of this page...
DOES THIS SITE RECEIVE ANY FINANCIAL BACKING?



None at all. Time is my greatest expense, and that is gladly donated. However, I do maintain the Bizarre Labs Shop, so if you feel the need for a book or a piece of science related equipment, please check there first. And yes I will be happy to take vintage science book donations!
DO ALL OF THE EXPERIMENTS WORK?



I cannot guarantee that any of these projects will work.These are vintage projects, most of which appeared in many different books and publications from the 1930's through the 1960's. They have, when possible, been adapted for contemporary audiences. Most components are readily available; some projects, however, require components that are more difficult to obtain, often due to safety issues. I have included these projects "as is" because they are part of the heritage of kitchen science. Often even these projects can be adapted to use more common materials.
ARE THE EXPERIMENTS SAFE?



For the most part, the projects on this site are fairly safe. There are a few exceptions which could be very dangerous, and are posted only because they are interesting to know about. These are projects that come from another era when people weren't so conscious about safety. They will be noted as such, and I will do my best to discourage you from trying them. If you don't know exactly what you are doing, don't even think about attempting something dangerous you happen to find anywhere on the net. You could be seriously hurt or even killed. Even the relatively "safe" projects posted here can be dangerous if you are not cautious with tools, chemicals, etc. If you decide to try one of these projects, be careful. Projects here are posted as information only. I cannot assume any responsibility. Don't come whining to me if you burn your house down. Consider this fair warning. Be careful! Now get out there and have fun!
WHERE CAN I BUY CERTAIN CHEMICALS, MATERIALS, ETC?



Where possible, whenever an archaic or difficult to find part can be substituted with an easier to find one, I will note it in the project. Sometimes this just isn't possible; for example, there really isn't a substitute for the blue razor blade used in the foxhole radio project. Most of the projects can be done either as listed or with some ingenuity and substitution; however since the spirit of this site is to showcase vintage projects in all of their original glory, I have included some that may be more difficult to complete with contemporary materials because they are part of the "lore" of home science. As for chemicals, times have changed, and one is no longer able to march down to their local hobby store and buy cobalt chloride or potassium nitrate. Ingenuity, determination, or knowing the right people may help. Please, please be careful with the more dangerous/toxic stuff if you do get a hold of it.
WILL THE "BIZARRE STUFF" GUYS ANSWER MY QUESTIONS IF I WRITE?



This is a tough one. First of all, there is no staff here. Just one guy with a day job. I would like to be able to answer everyone's questions, but I get around 100 a day, which doesn't leave much time. Generally, if you're stuck on one of the projects and I think I can offer usable advice, I will try to do so as time permits. If you are thinking of writing asking for instructions to build a doomsday device or something similarly dangerous or annoying, please don't.
IS THERE MORE?



I add projects as often as I find time. Right now I have a mountain of things waiting to be added. Please check back.
DONATIONS?



I am always interested in hearing about project suggestions for this page. If you would like to see something added, please send it to me at the address below. Projects as well as general comments can also be sent through my guest book.
THE FINE PRINT



1. Some of the projects on this site are very dangerous, and are noted as such. Do not attempt these dangerous projects. They are here for information and entertainment only.
2. Do not try any of the projects involving electricity, chemicals, or other potential hazards unless you really know what you are doing.
3. I can not guarantee that any of these projects will work. They have all been attempted and made to work at one time or another, but may not work for you for reasons including materials used, improper or incomplete construction, or wearing the wrong color of socks. I can not possibly answer all of the requests for assistance I get for these projects, and it is very difficult to diagnose a problem without seeing it. In other words, don't be put off if I don't write back right away to help. I'm swamped here!
4. Since these are vintage projects, some materials may be difficult or impossible to obtain. Substitutes are listed when known.